If you are thinking of taking the plunge and committing to doing yoga more often, you will want to look into getting a membership or taking classes at a yoga studio. Since yoga is all about getting in touch with your mind, body, and spirit while also getting some exercise, there are some things you should look for first when choosing a studio.
When looking for a yoga studio, the most important things are the yoga teachers' credentials, teaching style, and personality. The studio should also have a calming, peaceful atmosphere, offer a variety of classes, and provide proper space for your practice and your belongings.
Whether you decide to commit to a full membership or just purchase classes as you go, you will want to make sure the place you are going to is in line with all the things we mention below about what makes a good yoga studio.
The Credibility of Yoga Instructors
One of the most important things when you are choosing a yoga studio, is the yoga instructors that are teaching the class. If the yoga studio's website does not talk at all about their teachers, that could be a red flag.
Good and experienced yoga teachers will be happy to share their certifications, where they learned yoga, what qualifications they have, and exactly what they know. You can typically find their biographies on the yoga studios website, where it should list all their certifications and types of yoga they are most experienced with (Bikram, Hatha, Yin, etc.).
Personality and Style of Instructors
By also reading the biographies or the about me pages of the yoga instructors and getting a sense of who they are, you can also see if you would enjoy taking their classes.
Each yoga instructor is unique in their teachings, and while you can only tell much from what is written online, they may mention what their focus is, such as "physical and spiritual awareness" or "mindfulness," giving you insight into their personality and style.
Care for Students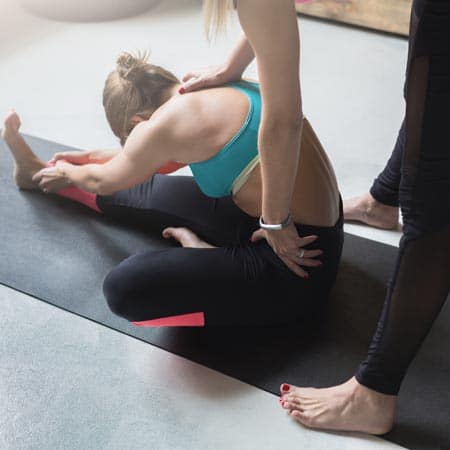 While this can only be determined by going to an actual class, reading reviews, or asking someone you know who goes to the studio, seeing how much the yoga instructors care for the students in the class is very important.
If they ask about injuries, preferences, or areas people want to focus on, that is a sign the teacher truly cares about leading the students through a great and personalized yoga practice.
Class Offerings & Schedule
Whether or not you are a planner, finding a yoga studio with a consistent schedule that offers virtually the same classes every week with the same instructors is important. If they are constantly switching the schedule or putting in substitute yoga teachers, it can throw off your practice or result in you having to switch classes.
By finding a studio that offers consistent classes with the same instructors, you can add yoga to your weekly schedule with ease and the fact that you can then develop a relationship with the instructor so that they can help you along with your practice.
Types of Classes
Some yoga studios may offer more Hot yoga classes than they do Hatha classes, and even if you like switching it up, finding one that offers both a variety and enough of the ones you enjoy is important.
Some studios may have more rooms available for hot yoga than others. Some may also place an importance on prenatal yoga, so it is a good idea to look at the classes they offer on a weekly and monthly basis to ensure they offer what you like.
You can most likely find this schedule on their website or social media pages.
Experience and Atmosphere
Some yoga studios may offer first-time customers a free yoga class, and if not, you can still go in to see what the studio is all about. Before you commit to a membership of any kind, you will want to pay attention to how you feel when you are there.
With yoga strongly focusing on your mind-body connection, you want an environment and atmosphere that is calm and peaceful. You may enjoy studios with more windows or ones that just give you all the good vibes when you walk through the door.
Also, the people who work at the front desk can make an impact on your practice. So making sure you get along with them can make your overall experience much better.
Music and Noise
While many yoga studios are quiet by nature, if you find one that does not stress quietness, it is a sure sign that you will not have a very peaceful time there. If the yoga studio is in a gym, you may also want to see how noisy it is in the studio.
Also, pay attention to the music. Most of the time, the yoga teacher will make the music playlist for the practice themselves. While some classes may have more calming, peaceful music, others may play ones with a bit more of a beat, especially if it's a strength-focused class.
Depending on what you enjoy, this may determine if you like the studio or a specific yoga instructor.
The Space in the Studio
Nobody likes a crowded space, and while you still may need to come in early to snag a space in the back, depending on the size of the room and the typical size of the classes, you could still end up surrounded by people.
If this is something you care about, pay attention to how big the classes are and if everyone is always filled to the brim. This may mean that while the place is popular, it can get crowded and if this is something you do not like, looking for studios with larger rooms or picking classes that are not during the busy times is your best choice.
Amenities and Changing Rooms
It is super important that the yoga studio you find has a place for you to change. Even better, if they have showers you can use so you never have to rush home after class if you have somewhere to go after.
You also want to look for ones with storage space for your belongings. Some places may offer hooks, but that will not guarantee that your belongings are safe. Free lockers or ones for a small fee that can be locked are something that makes all the difference since you may need to leave your wallet or keys somewhere.
There are also some other amenities that, while they are not necessary, may make a yoga studio that much better, including:
Rentable yoga mats
Rentable towels
Water fountain
A place to clean your yoga mats
Water bottles, drinks, or snacks for sale
Feminine hygiene in the bathroom
Blow dryer in bathroom
Face towels in the bathroom
Final Thoughts
When you are choosing what yoga studio you want to go to, you are also choosing a place to unwind, relax, and connect with yourself. With that said, there are a handful of things that you should look for before you commit.
These things include the yoga teachers and their experience or credentials—the classes that are offered, when, and how often. As well as the atmosphere, experience, and space the yoga studio provides.
Before you commit to a membership, look online to find these things out and try out a class at the studio to see if it's for you.